Tyres Bathurst
4×4 Wheels & Tyres
If you're the owner of a 4×4 and are looking for some top-quality wheels and tyres, we've got you covered. Here at Offroad 4×4 Bathurst, we stock a comprehensive range of 4×4 wheels and tyres, provided by some of the most trusted brands in the field. Stocking the most trusted brands in 4×4 wheels & tyres including ROH, Speedy & Dynamic Offroad wheels PLUS Tyres from Mickey Thompson, BF Goodrich and Dick Cepek.
Customer safety and satisfaction is at the core of our business, and we guarantee that you won't find better wheels and tyres elsewhere. With our range of offroad wheels, you can explore new terrains knowing that your vehicle can easily withstand the conditions.
Here at Offroad 4×4 Bathurst, we do extensive and thorough research to ensure that the brands we stock are the best and most reliable on the market. Each of these suppliers specialises in producing wheels for four-wheel drives, meaning they have the knowledge and expertise to excel in the field.
Contact us today for advice about our 4×4 wheels and tyres. We can recommend the optimum choice for your vehicle, and can also fit your wheels on-site.
Our expert team of professionals are ready to help advise, choose, and install your new wheels or tyres in Bathurst, so don't hesitate to get in touch!
FITTING & ALIGNMENT
Our experienced team can also fit and align your wheels in our on-site workshop
4×4 TRIP PREPARATION & SERVICING
Our exclusive Trip Preparation Service will help ensure a hassle-free offroad adventure
Call the experts in 4×4 today on 02 6331 1311
Our range of individual wheels is impressively large, and we stock wheels from three main brands:
Speedy Wheels
Speedy Wheels have a history of engineering excellence that dates back to 1957, and their technical expertise is impressively strong. With an extensive range of offroad wheels, the brand markets their product under our business so they can continue to help and satisfy our customers.
Dynamic Wheel Co
With the largest range of steel wheels throughout Australia, Dynamic Wheel Co advertises aesthetics as well as driving efficiency. Suited to almost all vehicle types, these wheels are built to last and look fantastic on the road.
ROH Wheels
Constantly on the lookout for the newest and best offroad wheels, ROH wheels are always updating their range. These wheels promote enhanced vehicle handling on-road as well as impressive and safe capabilities offroad, allowing our customers to explore new terrain in the safest and most efficient way possible.
We stock tyres from Bf Goodrich and Micky Thompson, two brands which are renowned for providing quality and trustworthy tyres for 4×4 drives across Australia. The weather conditions and terrain across Australia can be extremely diverse, but these tyres are well known for their longevity under almost any conditions.
We also stock Dick Cepek tyres, which, while less well known, have shown impressive performance since their evolution in the 1950s and are thought to be the original adventure tyre. Originally designed and manufactured to suit American offroad motor racing, they have now been expertly adapted and tailored into a reliable tyre for 4x4s.
We only offer tyres to our customers from the most premium brands who have tried and tested their tyres in varying Australian conditions. Our price range varies from $300 to $450, and you can rest assured that you won't find a better, more affordable tyre elsewhere.
Our Brands
For more information on our range Contact Us or call 02 6331 1311
ROH WHEELS
DYNAMIC WHEEL CO
SPEEDY WHEELS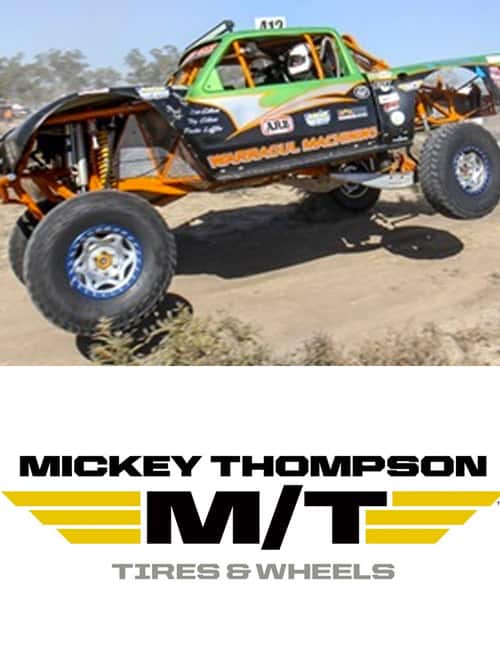 MICKEY THOMPSON TYRES
BF GOODRICH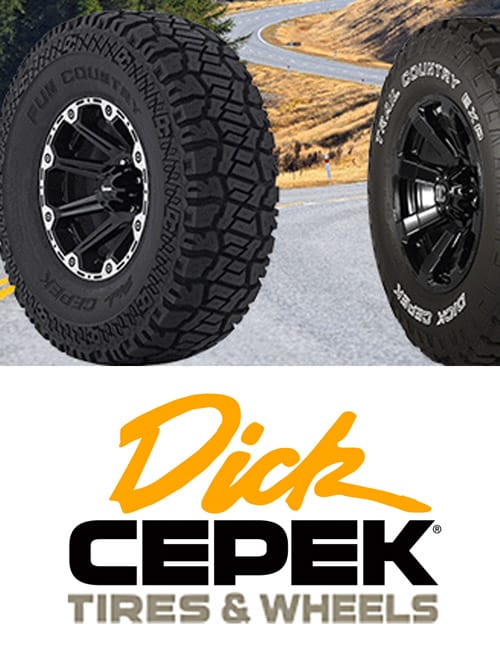 DICK CEPEK TYRES & WHEELS
Wheels & Tyres FAQs
Take a look at some of the wheel & tyres FAQs that we get asked. For further information about wheels, tyres or any of our other products, please get in touch.
How do I know which tyre size I need?
The tyre size is a series of numbers on the tyre rim that gives information on the width, profile, size and speed. If you're not able to easily discover what the numbers say (and they can usually be read from the tyre whilst it's still on the vehicle), then it's worth taking advantage of online search facilities which will give you the relevant information. Offroad 4×4 can also help identify tyre size!
Do I need different tyres for off-roading?
Off-road vehicles will tend to be fitted with tyres that offer optimal grip. Off-road tyres tend to benefit from features such as:

– A tread design that interlocks.
– Thicker sidewalls.
– Deeper, wider grooves.
This means your vehicle will get the most benefit and efficiency out of 4×4 tyres!
Are branded tyres worth the money?
Like everything else in life, you get what you pay for! Branded tires are generally more durable than generic options. They also tend to offer superior performance, which is important in an off-road situation.
For 4x4s that are taken to the limit, we recommend using premium tyres from well-known, prestige brands to get optimal performance.
Can I mix tyre brands and specs on my vehicle?
We really don't recommend that you mix tyre types and varieties on your vehicle. Uneven patterns or varying degrees of grip can result in spectacularly diminished performance. Also, if one tyre in a set is worn, it's likely that the others are going to need replacing shortly (unless there is a fault with the balancing or a related issue).
We recommend fitting a complete set of high-grade, purpose-designed 4×4 tyres for optimal safety and performance.
What's the difference between a tyre and a wheel?
The tyre is simply the rubber surround for the wheel. A wheel incorporates a hub, an axle and a tyre surround.