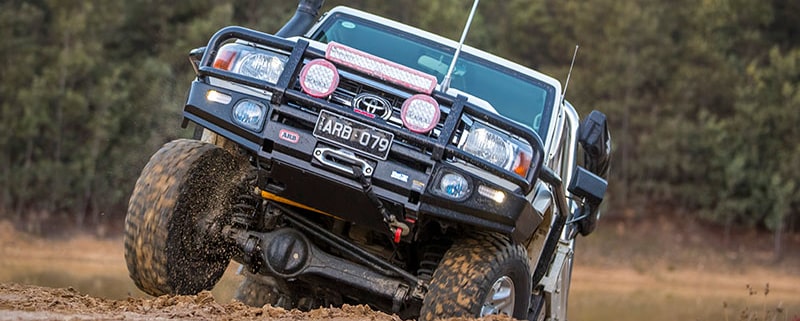 Bathurst is famous for mining, the gold rush and Mount Panorama—home of the V8 Supercars most prestigious race. Today, it's a well-travelled hotspot for caravanners and road trippers alike, looking to indulge in the first-class food and wine scene and explore the many colonial-era landmarks. However, what's just as eye-catching as the town is some of the off-road attractions near Bathurst. If you're looking to do a 4WD Bathurst adventure, take a look at the many options below.
MOUNT PANORAMA
This one is for the petrol-heads. What better way to experience the world-famous track than by doing a hot lap and putting the windows down as you roar down Conrod Straight. And for the wine lovers, there's a winery right smack on top of the mountain. It's fun for the whole family.
ABERCROMBIE CAVES
This system of caves is lined with crystal. Once upon a time it was a local hangout for goldminers, considering it's only an hour's drive from Bathurst. It's surrounded by waterfalls, hiking trails and bushwalking, making it a wonderful nature-filled experience that you can enjoy solo, with a friend or the whole family.
WALLABY ROCKS
A mere 30-minute drive from Bathurst, Wallaby Rocks is a frequented hotspot for mountain biking, fishing and an 8km hiking trail. It's an intimate day with nature where you can do whatever you like, whether it be fishing, reading, eating and drinking—or all of the above!
BOUNDARY ROAD RESERVE
An 85-hectare woodland, Boundary Road Reserve is a 5-minute journey from Bathurst and a great spot to see rare Australian birdlife. Kangaroos live there too, and you can get amongst it all by talking a walk along the couple of tracks that make it a leisurely and entertaining experience.
MACQAURIE RIVER
Do you like rivers? Do you like cycling? Well, you're in luck! The Macquarie River is a family-friendly destination that features a cycling loop (and the Denison Bridge). Whether you're looking to unplug and enjoy a day out in nature or you're looking to fill your Instagram feed with picturesque snaps, the Macquarie River is the perfect spot to see.
Bathurst is one of Australia's oldest colonial settlements, and as a result, has a treasure trove of history-rich attractions to explore. At Offroad 4×4 Bathurst, we stock a huge range of 4WD parts and accessories to ensure it's ready to conquer the Australian outback. Get in touch with us today to hear about our latest stock or fill out our enquiry form.
For more great 4WD news and advice, read our previous blog Where Can Your ARB 4X4 Take You?
https://offroad4x4bathurst.com.au/wp-content/uploads/2018/11/gallery005.jpg
600
800
Gavin
https://offroad4x4bathurst.com.au/wp-content/uploads/2018/05/logo-300x138.jpg
Gavin
2020-01-30 15:09:59
2020-03-01 22:43:43
Best 4WD Adventures Near Bathurst